Dan as a Dad
My Girls were my best friends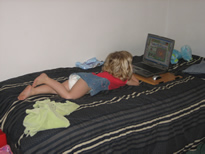 Why teach a child how to read when you can teach a child how to teach themselves how to read?
Everyday holds a plethora of learning experiences.  My philosophy has always been that I only have a limited amount of NO's in life so I try to save them for issues like getting to close to the road, underage drinking, drugs, teenage sex, etc…  Parents tend to waste a lot of NO'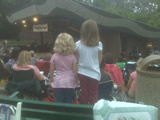 s on "it's to cold outside", "you'll get dirty", "you may get wet", "you may break it", and "because I said so."  When Mary was in preschool, she knew how to use Google Text to Speech.  If she didn't know a word in a book, she typed it into the computer and the computer would say the word.  A trip to Wal-Mart is always a learning experience.  We work on teamwork when grabbing the groceries and the girls unload the cart and paid for the groceries. 

They also learn how to ask questions and interact with people.  I never put my girls in a position to follow me, I taught them how to lead.  I tried to give them the confidence and tools to take on the world and I gave the freedom to explore.  Mary would try to catch any snake and Audrey thought she could jump off anything.  They never froze to death, drown, broke their computers, got stitches, or got sick from being too muddy.  It's about give and take.  I gave and they took my girls away from me.